Horizontal directional drilling
The company uses modern technologies in the production of construction and installation works, including the method of horizontal directional drilling (HDD) for trenchless laying of communications.
The main distinguishing feature of HDD technology is the ability to change the direction of drilling during the process, which allows wells to be drilled along a given trajectory, bypassing underground obstacles and exiting at a given point. It uses a modern location system.
The use of various specialized drilling tools allows for laying in geotechnical conditions typical for the Republic of Belarus, including in winter conditions.
Ditch Witch JT3020 All Terrain®
The horizontal length of underground communications is up to 300 m.
The rig is capable of operating in two modes: drilling soft soils (the rig has the characteristics and capabilities of the JT30 installation) and drilling rocky soils (including monolithic and fragmented rocks, crushed stone, pebbles).
Dimensions
Length
5.57 m
Width
2 m
Height
2.91 m
Weight with full cassette
9625 kg
Carriage mounting angles
10-16 °
Entry angle
19.4 °
Departure angle
17.7 °
Cassette capacity
35 rods
Weight of cassette with rods
2084 kg
Drill rod
Length
2.85 m
Outer rod connection diameter
83 mm
Outer rod body diameter
57 mm
Minimum bending radius
53 m
Weight with inner bar
45 Kg
Performance characteristics
Inner spindle (drill bit) rotation speed
400 rpm
External spindle rotation speed (mechanical motor housing, expander)
225 rpm
Inner spindle torque
1085 Nm
Outside spindle torque
5423 Nm
Carriage speed
37 m / min
Tightening force
134 kN
Punching force
in rock drilling mode
73 kN
in the mode of drilling soft soil
110 kN
Engine
CUMMINS QSB4.5 direct injection four-cylinder water-cooled turbodiesel (Tier III)
Volume
4.5 l
Power at 2400 rpm
156 h.p.
Setting the speed limiter
2300 rpm
Drilling fluid supply system
Performance
0-189 l / min
Maximum pressure
103 bar
Volumes of filled liquids
Hydraulic oil tank
102 l
Fuel tank
159 l
Watch a short video of how the HDD installation works:
Ditch Witch JT520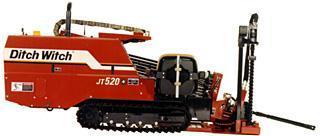 The horizontal length of underground utilities is up to 80 m.
The Ditch Witch JT520 ultra-compact horizontal directional drilling rig is designed for trenchless installation of utility lines and cases for communication cables over short distances.
Dimensions
Length
2.97 m
Width
0.9 m
Height
1.7 m
Bec with full boom
1352 kg
Drill rods
Length
1.5 m
Connection diameter
44.5 mm
Body diameter
28 mm
Minimum bending radius
21.3 m
The weight
7.25 kg
Performance characteristics
Maximum spindle speed
195 rpm
Spindle torque
678 Nm
Pushing force
2000 kg
Thrust
2220 kg
Pilot hole diameter
63 mm
Maximum expansion diameter
102 mm
Ground travel speed
2.46 km / h
Engine
Three-cylinder water-cooled diesel engine Kubota D1105B-1
Volume
1.12 l
Power at 3000 rpm
25 h.p.
Drilling fluid supply system (built-in)
Performance
0-18.9 l / min
Pressure
34.5 bar
Hydraulic system
Performance
95 l / min
Installing the safety valve
190 atm
Volumes of filled liquids
Hydraulic reservoir
30 l
Fuel tank
38 l
Engine lubrication system
4 l